Posted by Daniel
March 13, 2012
According to WrestleNewz.com, WWE Officials have been back and forth with the current plan for the Divas at Wrestlemania. One being a Eve Torres vs Kelly Kelly program, while nothing is certain at this point (and of course, these news sites reports are worth a grain of sand), Officials have the idea of having Maria Menounos participate and have a match with Beth Phoenix.
This would seem more likely considering the back and forth rivalry between the two over time, and considering Kelly was nowhere to be seen on RAW, it would appear WWE are going with this angle. We will either see both matches, or just Menounos' Match. The match type would probably also end up being a Lumberjill, as WWE have a tendency to feature every single Diva at Wrestlemania. » Read More…
Posted by Daniel
March 13, 2012
RingsideCollectibles have finally released a shot of the new Kelly Kelly Action Figure designed and made by Mattel. This is a part of the Series 18 Collection. You can pre-order it now for $49.99. Click the link below to find out more information!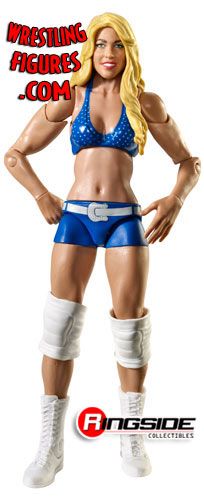 » Misc Links:
• RingsideCollectibles.com: Pre-Order Series 18 WWE Toy Wrestling Action Figure
Posted by Daniel
March 7, 2012
Kelly Kelly has been announced for the WrestleMania Axxess Event, although she may only be confirmed for 1 Appearance, there is a possibility she will be at others also. If you will be attending the event be sure to email your Stories, Photos and more to ohsobarbienet@gmail.com with full credit given to the owner. For full details on Axxess, see below.
The ultimate interactive WWE fan experience – WrestleMania Axxess – is coming to Miami from March 29 – April 1 at the Miami Beach Convention Center (Hall D). This is one event WWE fans of all ages will want to be part of!

Meet WWE Legend SGT. Slaughter, WWE Diva Kelly Kelly and other WWE Superstars

Sunday, April 1
12:30 p.m. – 4:30 p.m.**

** Free shuttle service presented by Florida Department of Transportation who encourages you to Drive Sober or Get Pulled Over. The shuttle is available to and from the Miami Beach Convention Center and WrestleMania 28 at Sun Life Stadium. Must be reserved through Ticketmaster.com.

Children 3 years and under – FREE

*Prices are PER SESSION and do not include applicable fees or sales tax.

Attractions
Live matches, Superstar Q&A's, Superstar signings and much more! Click here for a full list of attractions.

GENERAL ADMISSION TICKETS – $40*
» Gallery Links:
• TicketMaster.com: WrestleMania Axxess tickets
Posted by Daniel
March 6, 2012
Late last year, Kelly Kelly joined Bubba the Love Sponge for a 20 minute Interview. We finally have our hands on the video (And also, pictures!). Here are some Highlights:
- Kelly says her favorite girls in the WWE are The Twins (Brie & Nikki) and also Layla.

- Kelly says the guys treat her like a little sister, she names Big Show as one who is amazing and funny.

- Kelly says Big Show is always like "Whoever you're dating, I'm gunna have a talk with them". She says its hilarious.

- On Kelly's Relationship, she says shes very happy, she says she met Sheldon through Corey who is a close friend. (Who both agree he's hot!)